Connect with an Organization

By connecting with an organization you can immediately start to interact and jointly create networks and ledgers, and install smart contracts.
Think of it as a type of "friend request" that can be revoked at any time.
You have two ways to connect with an organization, whether you propose to connect, or somebody proposes you to connect.
How to
0. Organization Id
To connect with an organization, users are expected to share their "Organization Id" first (through email, SMS, etc).
To find the connections module, go to this icon in the upper right menu.
In there you can find your Organization Id, share it with anybody you'd like to connect with.
A company expecting you to add them would share their Organization Id with you.
1. Send a connection request
In the connections screen, click on "New connection".
Fill the form and the other user will get a notification to connect with you.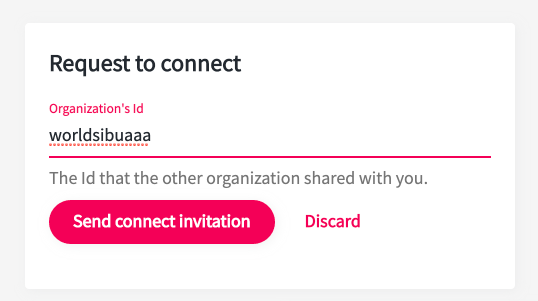 2. Approve a connection request
A connection can be initiated by either side. If you'd like somebody to connect with you, share your Organization Id with that user.
Once the other company invited you to connect, you can approve or reject their request.
You will see a notification like this. Click on it in the right upper menu, and proceed to approve or reject the request.